Fox Panel Denounces Bill Cunningham's Tirade: 'Not Only Crossed The Line, He Obliterated The Line'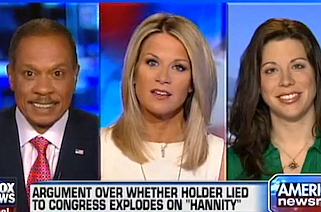 "Is this what we've come to?" Fox host Martha McCollum said Friday morning. "Is this civil society?"
McCollum was referring to a segment on last night's episode of Hannity, in which Bill Cunningham blew up at fellow guest Tamara Holder over Attorney General Eric Holder's congressional testimony, eventually telling her to "know your role and shut your mouth."
"He not only crossed the line, he obliterated the line," said Juan Williams, no stranger himself to how heated a Fox argument can get. "How was she supposed to respond except in personal terms, to try to defend herself? I think it shut down the conversation. That doesn't help."
HotAir.com editor-at-large Mary Katherine Ham disagreed with (Tamara) Holder's point about (Eric) Holder, but still was shocked at Cunningham's ire. "I was surprised she didn't get madder," Ham said.
McCollum read (Tamara) Holder's statement in response to last night's show:
"I'm always honored to join Sean Hannity's shows. I have long considered Mr. Cunningham as my professional friend, so I was just absolutely shocked by how he spoke to me. Just because I'm a Democrat, that does not mean I approve of this administration's behaviors. Unfortunately, because of Bill's comments directed at me personally, I wasn't able to share my educated opinions on a serious matter.
"That is the problem, right?" McCollum said. "We're discussing something very serious here, the question of whether or not the Attorney General lied under oath."
"Bill Cunningham is a talk radio guy," Williams said. "I think a lot of talk radio is speaking to people who already agree with your side and often times demonizing the other side. But it makes it very difficult to cross lines to have reasoned conversation, where you say, 'You know what? I may be a Democrat, but I think Holder was wrong on this point.' The point about criminalizing journalism is a real point of concern to people on the left and the right. I think he could have found that tomorrow Holder was far more open to his position if he hadn't personalized it. If he hadn't somehow—well, I don't have to say somehow, he called her a stooge."
Ham tried mollify the criticism of Cunningham a bit, pointing out that Holder has been critical of other Fox personalities in the past, and that Cunningham is married to an appeals court judge. "It looks like he doesn't have a problem with women in that particular role," she said, "so maybe this is not a reflection of his feelings, but you gotta be careful when you're on the air."
Watch the exchange here:
From 06/20/13: Hannity Guest Bill Cunningham Erupts At Democrat Tamara Holder: 'Know Your Role And Shut Your Mouth'
—
>> Follow Evan McMurry (@evanmcmurry) on Twitter
Have a tip we should know? tips@mediaite.com