Fox Panel Descends On 'Pocafibber' Elizabeth Warren After She's Confronted Over Minority Claim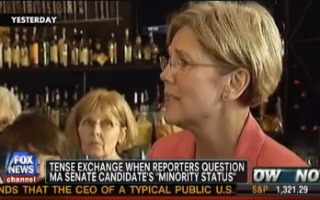 Massachusetts Democratic senatorial candidate Elizabeth Warren was confronted by reporters in Boston over her claims at having Native American heritage — a claim that an editorial in The Hill calls correct in "mythical terms."
In this 1996 article from The Crimson, for instance, Harvard Law spokesperson Mike Chmura describes Professor Warren as being Native American, even though, as the article states, "the conventional wisdom among students and faculty is that the Law School faculty includes no minority women." Boston.com reports today that "for at least six straight years during Warren's tenure, Harvard University reported in federally mandated diversity statistics that it had a Native American woman in its senior ranks at the law school," despite the fact that Warren had been unable to produce a Native American ancestor, instead attributing her belief to family stories.
Warren has claimed that she did not benefit from being listed as a minority in law directories and had claimed Native American heritage solely as a way of meeting people of similar backgrounds. She had also said that, until a few weeks ago, she was unaware that Harvard had been promoting her as a minority.
RELATED: Post In The Hill Calls Elizabeth Warren's Native American Heritage 'Correct In Mythical Terms'
When asked by a reporter to clear up the issue of her background, Warren responded by saying that voters were concerned about the economy. "Members of the Cherokee Nation want to know," the reporter interrupted. "They say you should come clean."
Warren avoided answering the question directly, saying only that her Republican opponent Scott Brown "hammered on my family at the same time that, now, that middle class families are also getting hammered."
"I have answered the questions about my background, about my family," she later added.
"You're not answering the question," the reporter said.
Shannon Bream, sitting in today for Megyn Kelly, brought on Alan Colmes and Mike Gallagher to discuss whether Warren has, in fact, answered questions about her background.
Colmes, after noting that whether or not Warren is a member of the Cherokee Nation is not a make or break issue for voters, weighed in by saying that this story is important because it speaks to Warren's ability to tell the truth and be forthcoming.
Gallagher chimed in, joking that "Pocafibber is having a little bit of trouble in her teepee right now." This prompted both Bream and Colmes to shake their heads. Then, when Gallagher brought Obama's past into the mix, Colmes advised him to stick to the topic. Gallagher then shared that, as he sees it, voters should care about the truthfulness of Warren's comments on ethical grounds. "Democrats have a long history of lying," he added, and they are not "held accountable" for it.
Gallagher wrapped up by expressing his hope that Massachusetts voters send "Pocafibber packing."
"Good to hear that joke again," said Colmes, dryly.
Both men agreed, however, that Warren needs to simply answer the question and, if needed, admit that she had made a mistake by having been untruthful in her claims about her ancestry and minority status.
Have a look, via Fox News:
Have a tip we should know? tips@mediaite.com