Fox Panel Erupts Over Satanic, Festivus Displays: It's a 'Mockery' of Christianity!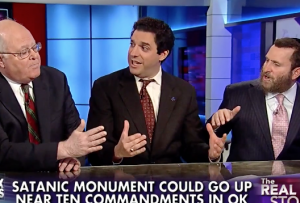 On Tuesday afternoon, the Fox News-led War on Christmas™ made its way into the studios of Fox News itself, with Gretchen Carlson, Catholic League president Bill Donohue, and Rabbi Shmuley Boteach tag-teaming American Atheists president David Silverman over some rather unique displays being put up in state capitals across the country; one a Satanist display, the other a Festivus pole made of beer cans.
Carlson found them unbelievably offensive, asking, "Are we making a mockery of everything regarding Christianity in this society?" Boteach found it ridiculous and offensive, arguing that there is no imposition of religious worship in the United States, while Silverman argued it should never be the place for the government to take sides.
Silverman asserted there's a right to a Satanic display, but Donohue actually made the argument that the First Amendment "is contidioned on time, place, and manner," and even went so far as to compare it to the KKK demonstrating on Martin Luther King Jr. Day or Neo-Nazis showing up on Yom Kippur.
Carlson found the beer-can Festivus pole to be so outrageous, saying she doesn't want to tell her kids, "There's baby Jesus behind the Festivus pole made out of beer cans!" Silverman insisted the season does not belong to Christians alone, and when Donohue called him out for quoting the Bible, he shot back, "I can cite it better than you."
Watch the video below, via Fox News:
[h/t Raw Story]
[photo via screengrab]
— —
Follow Josh Feldman on Twitter: @feldmaniac
Have a tip we should know? tips@mediaite.com
Josh Feldman - Senior Editor