Fox News Panel Explodes Over Which Candidate Is Running The Most Divisive Campaign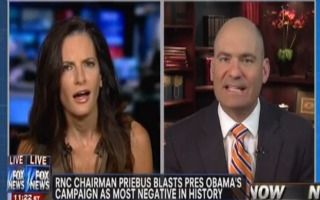 Over the weekend, Republican National Committee Chairman Reince Priebus said on Fox News Sunday that President Barack Obama was the most "nasty, divisive, negative campaigner that this country's ever seen." On Monday, former Virginia Republican Party chair Kate Obenshain and former aide to Sen. Chuck Schumer (D-NY) Chris Hahn joined Fox News anchor Jon Scott to debate the tone of President Obama's campaign against Republican party presidential candidate Mitt Romney. Their conversation quickly exploded into a battle over the mendacity of both candidate's campaigns.

RELATED: RNC's Reince Priebus Tears Into Obama: 'Most Divisive, Nasty, Negative Campaigner' In U.S. History
Scott asked Hahn if he thought Obama was waging the most negative campaign in the nation's history, which Hahn thought was a laughable statement.
"He's employing a strategy I think he used on the playground in high school; it's called, 'I'm rubber, you're glue. Whatever you say, blah, blah, blah,'" said Hahn. "For him to say Obama's the most negative – did he watch the Florida GOP primary where Mitt Romney spent 95 percent of his money on negative ads against his fellow Republicans?"
"But we're not talking about a primary here, Kate. We're talking about the general election," said Scott teeing up the question for Obenshain.
"There is a major transformation here from the great 'uniter' to the great divider," replied Obenshain. She said that the weak employment figures released last week on top of the expansion of government mean that "Obama has no choice but to go negative."
"He can't defend his ideology, he can't stand up and defend a set of ideas because it's not working, Jon," said Obenshain. "So, he has to go negative and he has to lie."
Hahn responded that it is a sign of Republican's own negativity that they are attacking Obama for an increase in the number of American's applying for disability benefits. "If only Barack Obama wasn't president, I wouldn't have stubbed my toe," said Hahn. He said that most Americans understand that the recession was the worst in 75 years and the direction of the economic recovery is encouraging.
Scott challenged Hahn's assertion that the recovery was moving in the right direction. "Adding 60 and adding 80,000 jobs is better than losing 650,000 which the Bush economy brought us," said Hahn.
"This economy is disastrous and there is no way of getting around that," Obenshain replied. She said that the President has no choice but to obfuscate and would avoid discussing, in particular, the health care reform's individual mandate which is now "a massive tax on hard-working Americans."
"Now you're lying, Kate," Hahn interjected. Crosstalk ensued while they argued over whether the health care mandate was a tax or a penalty. "It is not a tax on everyone," said Hahn. "And there are a lot of things about Obamacare that people are going to love and people do love."
Watch the segment below via Fox News Channel:
> >Follow Noah Rothman (@Noah_C_Rothman) on Twitter
Have a tip we should know? tips@mediaite.com