Fox Panel Grills Kirsten Powers Over Snowden Claim: 'It's Crazy' To Say He Hasn't Damaged National Security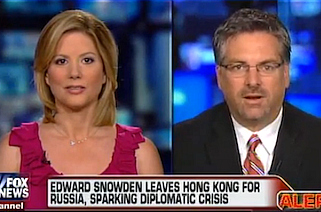 On Monday morning, Fox analyst Kirsten Powers defended her statement from two days prior that Edward Snowden's disclosure of classified information about the NSA's surveillance programs had not resulted in damage to national security.
"I was responding to someone else on the panel calling him a narcissist, which has become the favorite thing of everybody in the media to do," Powers told Fox host Bill Hemmer. "I think that we were speaking specifically about the NSA information that he released, about the type of data that is being gathered about American citizens, that I think is very important, that we needed to know, that we have now gotten so much more information about what is going on. It has not caused any damage to our national security."
"How do we know that?" Hemmer asked.
"I think you have to show that it has," Powers said. "The point is I think we would know. I highly doubt that the government is withholding information about how Edward Snowden has harmed our national security. The point is, he released important about American citizens. if you're asking me to believe that terrorists didn't know that their calls were being monitored…?"
"We do know that what people have said out of Washington, who were privy to this intelligence and this information, that they say that he's harmed national security because he's given away national secrets," Hemmer said.
"That's what they always say!" Powers said, echoing a line of Glenn Greenwald's. "They always say that there's a harm to national security. That's how they justify keeping secrets."
Steve Hayes of the Weekly Standard rebutted her argument:
"I think it's crazy and naive to suggest that the U.S. government hasn't been done damage by the leaking of this information. As Kirstin herself suggests it's a massive amount of information.

"We know for instance according to the New York Times today that the Chinese government has downloaded or accessed four laptop computers that Mr. Snowden had. We know that al-Qaida will be changing the way that it communicates, al-Qaida terrorists and would-be terrorist change the way that they'll communicate because of this information, because some of it is new. We know for instance that Vladimir Putin now has another piece of leverage to use against the United States government in its various dealings with the government—having Mr. Snowden in Russia, something that the United States would very much like to end, this global embarrassment. There's clearly been national security damage done to the United States.

"It's fine if you want to argue that it's been worth it because of the information we gained is so valuable. I don't agree with that view. But I think it's crazy to argue that there hasn't been any damage done."
"You're arguing about something completely different," Powers said. "I was talking about the NSA information released in the United States."
Watch the segment here, via Fox:
Watch the original segment here:
—
>> Follow Evan McMurry (@evanmcmurry) on Twitter
Have a tip we should know? tips@mediaite.com