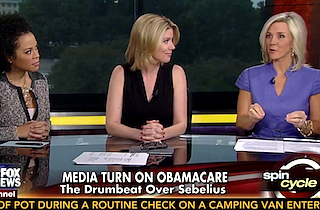 On Fox News' Media Buzz Sunday morning, Fox contributor Lauren Ashburn claimed the Daily Show's Jon Stewart had significantly harmed Obamacare's popularity by skewering it on his show, which is watched primarily by the demographic most needed to sign up for the Affordable Care Act exchanges.
"He has made Obamacare a punchline for America," Ashburn said. "What's striking about this is he has been so critical of Republicans—everyone knows he's very liberal—and of Fox News in particular. His statistics on the demographics of his show are really what make this important. 40% are supportive, Democrats and independents, of this. And the younger people are who watch it. 40% of his viewers are thirty and under."
"Precisely the people who need to sign up for it," host Howard Kurtz said.
"Who are probably now are not going to do it," Ashburn said.
It didn't stop at Comedy Central. Kurtz noted that Health and Human Services Secretary Kathleen Sebelius had been mocked on Saturday Night Live the night before, and asked if the calls for her resignation or termination were appropriate.
RELATED: GOP Senator on ABC: Kathleen Sebelius is 'Laughing Stock of America'
"Well, it's her job," Powers said. "She's responsible for it. I think the reason she's not going to get fired is we're in the middle of a crisis and it doesn't make sense to fire the person that is helping shepherd you through it. And the administration thinks there's no way to get somebody confirmed."
"They also ant to do it on their terms," the Blaze's Amy Holmes said. "They don't want to look like they were backed into a corner by evil Republicans."
Watch the full clip below, via Fox News:
[Image via screengrab]
——
>> Follow Evan McMurry (@evanmcmurry) on Twitter
Have a tip we should know? tips@mediaite.com