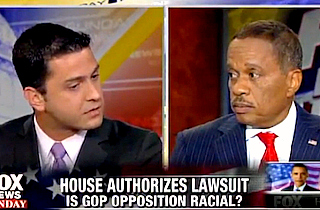 A Fox News Sunday panel that began skeptically of the GOP chatter about impeaching President Barack Obama erupted with charges of racism and lawlessness, as Fox contributor Juan Williams and Heritage Action leader Michael Needham went at it over the motivations behind the calls for impeachment.
Both National Journal editor Ron Fournier and Williams called out Needham for calling Obama "lawless."
"You listen to Michael and you understand why lots of Republicans think [Obama's] a demon," Williams said. "Lots of people in the minority community see it as an attack against the first black President. They think it's unfair, and so it's gonna spur their turnout in the midterms, which is going to be critical in several races."
"If you just break it down as a matter of political analysis and say who is this group [calling for impeachment], it reminds me that the Republican Party has become almost a completely white party," Williams continued. "The people who want him impeached are all white, they're all older, and guess what — they're all in the far right wing of the Republican Party."
"He might as well have just said they're all racists," Needham objected. "That's ridiculous….You're the one demonizing people who are concerned about the fact that we have a crisis of Constitution."
"Look, we can have a principled argument about President Obama's actions and use of executive actions, but you called him lawless, as if he's an outlaw, as if he's riding the range and we gotta go get that guy," Williams said.
Fournier finally cut in: "The way the Americans are hearing this conversation, is they're hearing you say that our president is a criminal and hear you saying that Republicans are racists," Fournier said. "What they want is solutions."
Watch the clip below, via Fox News:
[Image via screengrab]
——
>> Follow Evan McMurry (@evanmcmurry) on Twitter
Have a tip we should know? tips@mediaite.com