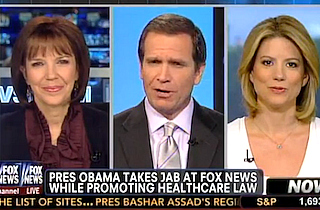 On Fox News Friday afternoon, host Jon Scott asked his guests if it was fair for Barack Obama to have singled out Fox News for "ridicule" during an address on Thursday.
"We have complained about this often," Judy Miller said. "This is not a one-shot, one-off by the president. He and his aides have done this repeatedly. It's effective. It draws attention away from the fact that his own popularity is sinking in the polls."
"The president, at this point, of course is aware of Fox News, because more Americans watch Fox News than any other [network], so it gets under his skin," she added. "He was light-hearted about it, but the message was clear."
RELATED: The Five Reacts to Obama's 'Cheap Shot' at Fox News
"I disagree with a lot of the assertions that have been made by my colleagues here, who are against ObamaCare," Kirsten Powers said. But she then said Obama's characterization of Fox News as monolithically opposed to the Affordable Care Act "ignores the fact that there are actually a diversity of views here, not just among the liberals that are on the channel who support ObamaCare—but even within the Republican Party there's disagreement. You have Karl Rove arguing against defunding ObamaCare, for example. So there isn't a unanimous view regarding how to approach ObamaCare."
"But maybe the president doesn't watch Fox," Powers said.
Watch the full clip here, via Fox News:
[Image via screengrab]
——
>> Follow Evan McMurry (@evanmcmurry) on Twitter
Have a tip we should know? tips@mediaite.com