Fox Panel: Romney's Greatest Feat In Debate Was To Liberate 'Himself From The Modern Republican Party'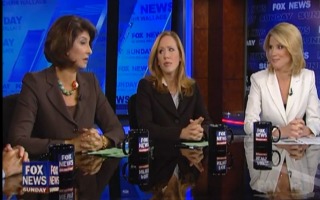 In an analysis of Mitt Romney's debate performance, Fox News Channel's panelists noted how quiet the right has been in chastising the GOP presidential nominee for seemingly moving to the center during his debate with President Barack Obama. NPR's Mara Liasson noted that Romney has "liberated himself from the modern Republican party."

RELATED: CNN Concludes That Mitt Romney Is Entitled To His Own Facts
Liaison told the Fox News Sunday panel that Romney's conspicuous move to the center of the political spectrum was curiously not causing a stir among conservatives.
"He presented himself as this moderate, appealing businessman – he's not going to raise taxes on the middle class, he doesn't have a $5 trillion tax cut. I think that was a huge, huge accomplishment," said Liasson.
The Wall Street Journal's Kimberley Strassel said that Romney had not moved to the center so much in the last debate as he simply explained positions he has held since the conclusion of the Republican primaries in the spring.
"I think a lot of this, though, is the press pivoting off of what Barack Obama has described his plans to be," said Strassel. "Mitt Romney has been fairly consistent about what he plans to do."
Conservative opinion writer John Fund echoed Liasson's observation on CBS' Face the Nation on Sunday. "Mitt Romney has one advantage with his conservative base," said Fund. "His opponent is Barack Obama."
Watch the panel discussion below via Fox News Channel:
Watch Fund agree on below via CBS:
> >Follow Noah Rothman (@Noah_C_Rothman) on Twitter
Have a tip we should know? tips@mediaite.com