Fox Panel Spars Over Media Bias In Coverage Of GOP Negotiations To Avoid Fiscal Cliff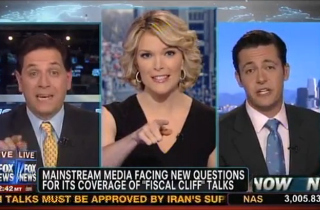 Another one of Megyn Kelly's Fox News panels got rather heated this afternoon, with this particular one focusing on media bias in coverage of the fiscal cliff negotiations. The debate ultimately descended into what Kelly described as an "annoying" interruption fest that forced her to cut off both guests and end the segment.
Kelly began the discussion by citing several newspaper headlines regarding the impending "fiscal cliff," noting that they generally paint President Obama in a favorable light. She asked Republican political analyst Tony Sayegh whether it would be fair to characterize the mainstream media as "arrogant" in the wake of an Obama victory.
"The media has been buying into this story that, since the election, President Obama has some sort of ubiquitous mandate to do whatever he wants," Sayegh responded. "And I think that is truly false. Obviously he's been given more time, but not to ram through an agenda that does not have some participation and cooperation from the Republicans."
Former Kerry and Obama campaign aide Mark Hannah pushed back, replying that the American people voted "very clearly" for the president, and so the media has not been wrong in portraying the president as taking a "hard line" on debt and acting out a mandate.
Kelly interrupted, trying to refocus the conversation on whether the media the media has been focused solely on tax hikes and not on whether the president will include spending cuts. "The point that i'm trying to get to," she said, "is there some arrogance or bias, anything inappropriate, about the media being so focused on the tax debate as opposed to where are the spending cuts?"
"I don't think so," Hannah replied. "This is because there hasn't been any serious proposal for spending cuts and it's true of the Republicans as well. You don't see Republicans coming out saying they want to cut spending on specific things. the president's put forward a plan that included a few spending cuts. Now it's the Republicans' turn to show what they are willing to cut spending on."
The two guests then began to interrupt each other frequently, descending into indecipherable crosstalk. After Kelly attempted to give the last word to Hannah, his conservative counterpart continued to interrupt.
"I was giving Mark the last word. Don't steal it," Kelly pleaded to no avail. The two continued to talk over one another, prompting her to say "Now it's just getting irritating. Got to go."
After Hannah and Sayegh disappeared off-screen, Kelly turned to her audience and said, "Sorry, that got annoying at the end."
Watch below, via Fox:

— —
>>
Follow Andrew Kirell (@AndrewKirell) on Twitter
Have a tip we should know? tips@mediaite.com