Fox Panel Takes On Obama's Recent 'Puff Ball' Interviews: Where Are All The 'Gotcha Questions?'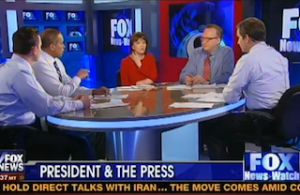 This afternoon, Fox News Watch picked up where The Five left off Friday afternoon, tearing into the rest of the "mainstream media" for going easy on President Obama.
The segment kicked off with a clip from Obama and Hillary Clinton's joint 60 Minutes and interviewer Steve Kroft's subsequent admission that he chose not to "play gotcha" with the pair. "That sound you hear might be Mike Wallace rolling over in his grave," host Jon Scott said. "No 'gotcha questions' on 60 Minutes, since when?"
Jim Pinkerton from The American Conservative Magazine agreed, saying "President Obama knows he can come and just answer the questions — the 'puff ball questions.'"
Fox News contributor Juan Williams admitted that most Americans did not want to see Obama and Clinton "on the grill with regard to foreign policy" but "it is striking that the questions were softballs. It was a love fest. I don't have any question about that."
Richard Grenell, who worked as a press representative for former Republican secretaries of state, said that 60 Minutes would never have treated his bosses like Kroft treated Obama and Clinton. "When you have the president of United States and the secretary of state you have to corner them. You have to ask them about Iran and negotiations and Syria and what we're doing or not doing." Grenell noted that the interview in question is proof that political reporters should not be allowed to cover foreign policy.
Scott then turned to President Obama's recent interview with The New Republic, conducted by his former donor Chris Hughes (not Chris Hayes as he was repeatedly called by members of the panel). Judy Miller had some tough words for Hughes, a "new publisher trying to revive a really great institution is not doing it any favors by asking these softball, 'how do you feel about your second term' questions… If you're going to save a magazine, save it for something."
Williams said that Obama's attacks on Fox News in his interview "tells you how this president views the media universe. I think this is longstanding campaign by the Obama campaign to label Fox as illegitimate and not a real news agency."
Watch video below, via Fox News:
—
>> Follow Matt Wilstein (@TheMattWilstein) on Twitter
Have a tip we should know? tips@mediaite.com