Fox Panel Takes On Whether Media Acted As 'Cheerleaders' For Obama In Inaugural Coverage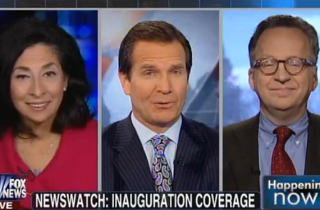 During a "Fox News Watch" segment of Happening Now this morning, the panel debated whether the media went "over-the-top" in its positive treatment of President Obama's second inauguration. Conservative columnist Jim Pinkerton argued that there's an obvious disparity in treatment between Obama's inaugurations and Republican Bush's; while liberal contributor Ellen Ratner said otherwise.
Host Jon Scott asked whether the media, at points, acted like a "cheerleader" for the president. He cited several examples: CNN's Jim Acosta telling Wolf Blitzer, "I feel like I should pinch myself right now"; NBC's Al Roker "shouting and whooping it up for the president and vice president like he was at a Mardi Gras parade"; and CNN's Tom Foreman admitting he has written the president a letter for every single day of his presidency.
Ratner dismissed the notion that the overall media treatment was "over-the-top," saying, "This was a great day for Americans, and it doesn't really matter whether it was President Bush or President Obama." She suggested the media was simply celebrating "the whole event" which marks "a peaceful transfer of power," which is seen as an exceptional trait of American political culture.
Pinkerton retorted that the media's coverage was akin to Chris Matthews saying he had a "thrill up his leg" listening to Obama in 2008, and specifically cited Matthews' 2013 comparison of the Obama inaugural speech to the Gettysburg Address.
– RELATED: NBC News Touts Al Roker's 'Interview' With Obama: Consists Of Wave, Acknowledgement
The conservative columnist also suggested the media is much more eager to buy the Democrats' inflated inaugural attendance numbers, which some claimed to be in the millions, as opposed to the National Parks Service which had a much more conservative estimate.
When the panel compared the New York Times's treatment of the Bush and Obama second inaugurations side-by-side, they found that the tone was generally negative about Bush's planned $40 million budget, whereas his successor received praise for spending around the same amount.
"First of all, there is inflation," Ratner quipped. "But secondly, no, I think the media should have been fairer on that. I actually think there shouldn't be second inaugurations. He got sworn in at the White House, that's fine."
Watch below, via Fox:
— —
>> Follow Andrew Kirell (@AndrewKirell) on Twitter
Have a tip we should know? tips@mediaite.com