Fox Panel Tears Into Fired Yahoo News DC Chief For Racially-Charged Remark About Romney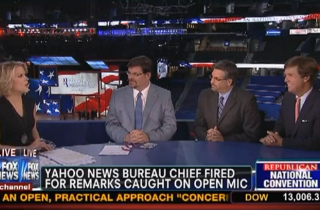 On America Live Thursday afternoon, panelists Jonah Goldberg, Stephen Hayes, and Tucker Carlson tore into recently-fired Yahoo News! DC Bureau Chief David Chalian for his hot-mic comments that the Romneys are "happy to have a party when black people drown."
National Review Online founding editor Goldberg said the incident "revealed what everybody knows" about the mainstream media: "I'm not saying that they are all bad joke tellers, but they all basically believe that if we see racism everywhere, the GOP is basically a racist party," he said.
"What is amazing to me," Weekly Standard columnist Hayes added, "was not just the fact he would say something like this, that it would occur to him to have it come out of his mouth, but that everyone else either laughed and nobody disagreed with them."
"Beyond that," he continued, "what you saw after he was fired, with numerous high-profile media figures [like Gwen Ifil] standing up for him. it is mind-boggling."
Host Megyn Kelly then asked Carlson whether this incident reflects an institutional bias against the Mitt Romney campaign.
"To put it into some perspective," Carlson said, "Chalian was not an intern, he was ABC News' political director. A well-known Washington journalist. But his views comport with those in most of the media."
"The media really are liberal, more than you know." he continued, "On the question of race especially, the consensus view in the press is: It's still 1955, white racism is America's biggest problem, and the Republican Party is structurally racist."
"I don't think what [Chalian] said would be considered remarkable by 90-percent of the reporters that I know," Carlson concluded.
Watch below, via Fox News:
— —
>> Follow Andrew Kirell (@AndrewKirell) on Twitter
Have a tip we should know? tips@mediaite.com