Fox Panel Tears Into Hagel: Why Does Obama Want Him 'In The Pentagon In The First Place?'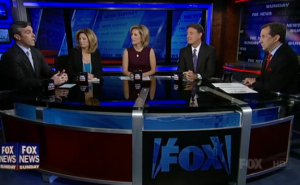 On Fox News Sunday, Chris Wallace invited his panel to discuss Chuck Hagel's confirmation for secretary of defense. His performance during last week's hearing was largely panned, and the panel didn't much differ in their opinions — hitting Hagel on his performance, qualifications, and worldview.
Hagel "didn't bring his A game," former Sen. Evan Bayh (D-IN) said. But in the end, it won't matter because he'll be confirmed. The question, he said, is whether there's any sort of filibuster — in which he case he'd still be confirmed, but it would just be a more difficult process.
"Should it matter," Wallace asked, "that he didn't seem to know what administration policy was? He didn't, in some cases, seem to know what his policy was. I mean, he's going to be head of the Pentagon."
Bayh said he misspoke but wasn't showing any real disagreement with administration policy. Laura Ingraham wasn't quite on the same page.
"I think the Russians and the Chinese were watching how this played out," she said. Echoing Bill Kristol, she said it wasn't only a subpar performance but possibly "the worst performance that ever took place at confirmation hearing — and that's saying something."
"Merit should count for something," Ingraham said, adding that it was "disturbing" specifically to see his lack of knowledge about the sequester. He was "completely out of his depth."
Hagel was also confronted with some of his past remarks, such as those about the "Jewish lobby," Wallace noted, asking: "Why does Barack Obama want Hagel in the Pentagon in the first place?"
Fortune magazine's Nina Easton said what she found troubling was not Hagel's stumbling answers but his worldview. Particularly when he spoke about containment. "It's a dangerous world, you can't just put a pause button on it," she asserted.
Being "blatantly political," Wallace then asked whether the confirmation should be filibustered, to which Kevin Madden replied that there's not much "appetite" for it. They're more inclined to use it to make a case about where they disagree with the president.
There is concern, he said, about Hagel's qualification for the job and his ability to have "important and distinct opinions" on big national security issues.
Take a look, via Fox:

Have a tip we should know? [email protected]