Fox Pundits Clash Over 'Old Story' About NSA Spying: Where Was The 'Uproar' During Bush Years?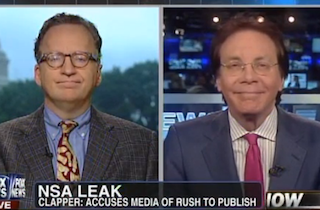 Alan Colmes and Jim Pinkerton joined Jon Scott on Fox News on Monday to discuss the NSA news as well as the media's handling of it. Specifically, they looked to Director of National Intelligence James Clapper's assertion that the media didn't act responsibly. Amid a frenzy of outrage, Scott asked whether too much transparency could be a bad thing.
Clapper clearly thinks transparency is bad, Pinkerton argued, which is the simple explanation for why programs were kept under wraps. If the PRISM program was "so great," he asked, why didn't they catch the Boston Marathon bombers? Or the Detroit underwear bomber? What are they looking for?
"How can you say you want transparency and then be upset when information comes out?" Colmes asked, in a panel comprised of question after question. He further pointed to stories from 2005 and 2010, which also addressed the topics of spying, data collection, and how much authority the federal government had to do so. "This is not brand new information," he said. "To some extent, it is an old story."
Pinkerton didn't think the situation now was entirely the same — precisely because President Obama made us grand promises of transparency. "Everything was supposed to change," he reminded. But Colmes pressed, "Where was the media in 2005 when some outlets did report this story? There was no uproar about it."
The internet companies also made a difference this time around, Pinkerton argued, noting that Google and others are serving as "agents" of the government. Colmes wasn't buying it. "It's basically the same story," he insisted.
Take a look, via Fox News:

Have a tip we should know? tips@mediaite.com