Fox Reporter Gets Jay Carney To Admit 'Credit Is Due' To George W. Bush For Iraq War Successes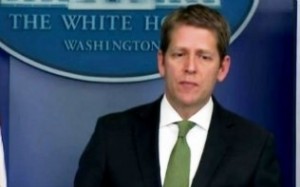 On the tenth anniversary of the invasion of Iraq by coalition forces, Fox News Channel's James Rosen and White House Press Sec. Jay Carney engaged in a heated exchange over the value of that conflict and whether any credit was due to President George W. Bush for going ahead with the invasion. Carney conceded that "credit is due" to President Bush for sending American troops into Iraq in 2003 which led to the toppling of Saddam Hussein.

RELATED: Matthews: 'If You Waterboard Cheney,' We Would Learn Real Reasons For Iraq War
"None of us want to plunge ourselves into counterfactual histories about 'what if,'" Rosen said in his question to Carney. "When you stand here and tell us that Iraq, today, now has the option for the chance for a much better future than her past, that is, as a matter of factual history, only possible because President Bush decided to launch this war."
Carney agreed not to engage in counterfactuals. He said that Iraq does today have the chance for a brighter future because of the civilian and military service personnel who served in that conflict. He added that it would be up to historians to judge the decisions that the previous administration made leading up to and during the Iraq War.
"It sounds to me, listening to you, what you call the quote-unquote 'welcome development of Saddam Hussein being gone,' you are unwilling to accord President Bush even a single iota of credit for that development," Rosen pressed.
"I'm happy to do that, James," Carney replied. "But there is no question that Saddam Hussein was removed from power thanks to the military efforts of the U.S. armed forces and they were sent to Iraq by President Bush, so obviously there is a causal relationship and to the extent that credit is due, credit is due to him for that."
"That does not change, I think, assessments made by this president as a candidate or by many others on this day — ten years after — about the judgments made to go to war in Iraq and to invade a country," Carney continued. "This will be a matter of discussion and debate for a long time, I expect, in Washington as well as in classrooms and among historians."
Watch the exchange below:
h/t POLITICO
> >Follow Noah Rothman (@NoahCRothman) on Twitter
Have a tip we should know? tips@mediaite.com