Fox Segment Erupts When Dem Calls Rich Lowry's Obama Criticism 'Almost Treasonous'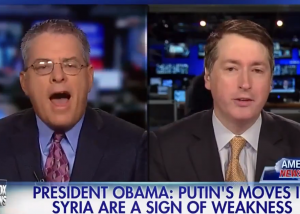 A Fox News panel on Russia's actions in the Middle East exploded after Democratic strategist Brad Woodhouse accused National Review editor Rich Lowry's criticisms of Barack Obama of bordering on treason.
"Putin is humiliating President Obama and enjoying it," Lowry said. "Russia is a second-rate power and will never be a first-rate power again. But Russians love the idea of defying and pushing back against the United States. So this is an enormous benefit, a wonderful play for Vladimir Putin, kicking around the president of the United States, who is passive and weak, let's face it."
"Well, I'm not okay with Rich Lowry," Woodhouse responded. "Rich, you sound like an apologist for Putin and almost treasonous against the United States."
"Treasonous?" asked an amused Lowry. "It's 9:30 AM in the morning and I've already committed treason?"
But Woodhouse didn't back down. "Seriously, it's like you are cheering on Vladimir Putin."
"Oh come on," Lowry said. "For the record, he's a thug. What he's doing in Syria is disgusting. But he's humiliating the President of the United States."
"Well I'm glad I shamed you into saying that," Woodhouse said.
"Oh come on, Brad," Lowry shot back. "Look at anything I have written or said about Putin over the years. I've said the reset was a disaster from the beginning, by the way."
"You sat there giddy about what's going on in Syria," Woodhouse charged.
"I wasn't giddy," said an angry Lowry, after which host Bill Hemmer got the discussion back on track.
Watch above, via Fox News.
[Image via screengrab]
——
>>Follow Alex Griswold (@HashtagGriswold) on Twitter
Have a tip we should know? [email protected]