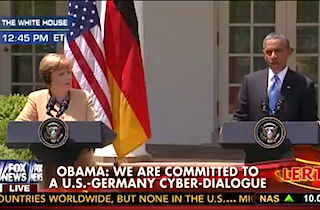 The hosts of Fox News' newest daytime show Outnumbered are having way too much fun talking about Benghazi to hear what President Barack Obama and German Chancellor Angela Merkel have to say about the rest of the world. Why listen to what two of the world's most powerful leaders have to say about a number of topics (including the ongoing Ukraine crisis) when you could be discussing everything they're not saying about Benghazi?
Outnumbered tried hard to bring its audience as much of today's joint press conference as they could bear, first showing the opening 11 minutes and then what must have been an excruciating 23 minutes later in the show. But after all that time and not one mention of the 2012 attack on a U.S. consulate in Benghazi, they were forced to give up for good.
The first hints of frustration came when host Harris Faulkner broke away from the live press conference as Merkel was delivering her opening statement. "Here's what we are waiting for," she said. "Potentially reporters in that crowd will ask the president about the developments with these Benghazi emails that have come out, and they're explosive." She added, "We fully expect somebody in the crowd might ask the president about this. This would be the first time that he would speak since these emails would come to light."
Watch video below, via Fox News:
After another few minutes of Benghazi talk from the group, Fox decided to go back into the press conference, this time sticking with it for much longer as Obama and Merkel discussed sanctions on Russia and other issues of international importance. But once again, because the issue of Benghazi somehow did not come up, the show cut away to instead speculate about what the president might say were he asked about the issue.
"We know that the next question coming up is from a German reporter. We are not anticipating that would be about the situation with Benghazi, which is breaking news since the president has been talking really," Faulkner said. "So, if in fact somebody throws him a question on this topic, we will go back to that joint news conference with German Chancellor Angela Merkel."
Instead, the host said they would continue with news that is "breaking" pertaining to new Benghazi-related emails that have come to light. "I know how much the president has said he likes his Blackberry, so I have to think that somebody's probably sending him something and in the long answers and questions he might have been able to look down," Faulkner said, assuming Benghazi is also the most important issue of the moment for Obama.
"If he was asked about it, I think he would have dismissed it, in the same way that Jay Carney did yesterday," Kirsten Powers added. While these things are often portrayed as a "partisan witch hunt" by the Obama administration, in this case, Powers said she does not believe that to be the case.
When Outnumbered finally got a chance to take a commercial break, it wasn't more on the president's news conference or even Benghazi that Faulkner teased on the other side. Instead? "New insights into the 'whys' of cheating."
Watch video below, via Fox News:
In contrast, both CNN and MSNBC gave up nearly their entire noon ET hours to cover the press conference without interruption. If CNN could tear itself away from nonstop missing plane coverage and MSNBC could spend a full hour without examining the words of elderly racists, then couldn't Fox do the same with Benghazi?
Men might be "outnumbered" in Fox's new show — Eric Bolling could hardly get a word in edgewise — but on today's panel there was total consensus on the only news story worth discussing.
[Photo via screengrab]
— —
>> Follow Matt Wilstein (@TheMattWilstein) on Twitter
Have a tip we should know? tips@mediaite.com