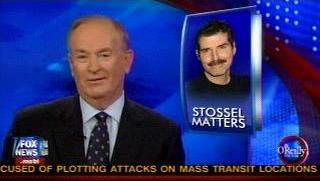 Hey, look Fox News viewers – your favorite news network's big new hire wants to legalize heroin.
John Stossel made his O'Reilly Factor debut last night as a member of the Fox News family, and Bill O'Reilly pressed him on his libertarian beliefs, as well as if he's ready for the White House to hate him.
It was announced Stossel was coming over to Fox News and Fox Business Network last month, but he first began appearing on FNC this week. And last night he was on the top cable news show.
"It's interesting, while the White House is pounding Fox News, Stossel, who has been in network news for more than 30 years, signs up with us," said O'Reilly. "Can't be money, the guys filthy rich, so why did he do it?"
Stossel joked a bit, but his main explanation for the move was, "People knew there were a lot of things I wanted to do that they didn't have time for at ABC."
But then they got to the main point – Stossel's staunchly Libertarian viewpoint. And the conversation inevitably started at marijuana. "Adults should be free to take anything," he said, as O'Reilly bashed California and explained his half-baked theory about how "stupid" marijuana clinics lead junkies to sell pot to kids.
"You think making it illegal makes that go away?" asked Stossel. Then there was this exchange:
Stossel: It is the illegality that causes the need for the heroin addict to maybe sell stuff to chlidren…
O'Reilly: So you want to legalize all the drugs?
S: I want to legalize all the drugs for adults, then you can police the kids…
O: Listen to me, listen to me, because this is how desperately wrong you are.
According to a poll of 800 registered voters by Dick Morris this week (and to be fair, Morris is a contributor to Fox News), 55% of Republicans, 46% of Independents and 17% of Democrats say they watch FNC several times a week or more. Still, expect Stossel's views to blow the minds of a significant portion of viewers. One place his politics may gain more traction is actually on Fox Business Network – where the "Main Street versus Wall Street" mentality is, on some level, a call for less government involvement. Stossel will be on there every week.
Notably, he'll also be on The Factor every Tuesday, which O'Reilly called "the biggest break of his life."
Here's the interview:


—–
» Follow Steve Krakauer on Twitter
Have a tip we should know? tips@mediaite.com