Fox's Ablow Demands Warnings on Facebook, Slender Man: 'Where Is the Surgeon General?'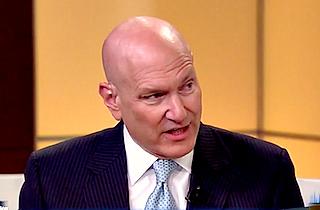 Following an incident in which two twelve-year-old girls stabbed a friend after apparently being inspired by internet meme Slender Man, Fox & Friends host Elisabeth Hasselbeck asked if "the games are to blame," and Fox News psychiatric contributor Dr. Keith Ablow implored the Surgeon General to put warnings on a variety of internet and social media platforms.

"The internet is a form of communication that human beings, we are learning, are not immune to, in terms of being able to resist themes that flow to them through this drug portal," Ablow said. "Facebook depersonalizes people. It decreases their empathy. This has been shown by data. And when you tell a story via this direct line to your emotional self, it can infect you in a special way."
"The Surgeon General has been a no-show on Facebook, which you should carry a warning label, on Slender Man, which should carry a warning label," Albow said. "Where is the Surgeon General?"
RELATED: Keith Ablow's Bullying Solution: Parents Should 'Go to These Schools, Lawyers in Tow'
Hasselbeck asked if the people who made the Slender Man videos could be held legally responsible.
"Traditionally, those folks are shield by first amendment rights," Ablow replied. "However, in this case if you watch the Slender Man video, how could somebody create that video and not believe this could inspire a person to kill? "
"Because there is personal responsibility," Fox legal analyst Arthur Aidala countered.
"If I were a parent and my daughter were dead, I would sue them," Ablow said. (NB: the girl in the case survived.)
Watch the clip below, via Fox News:
[Image via screengrab]
——
>> Follow Evan McMurry (@evanmcmurry) on Twitter
Have a tip we should know? tips@mediaite.com