Fox's Ainsley Earhardt Defends NFL's Roger Goodell: 'He's Been Very Lovely to My Family'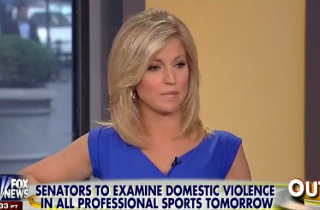 Fox News host Ainsley Earhardt wants you to know that she knows NFL commissioner Roger Goodell and, despite what you may have heard about his reputation, the pro-football chief is trustworthy because he's sure been great to her family.
Last Friday, embattled running back Ray Rice won the appeal of his indefinite suspension, with a former federal judge concluding the star athlete did not lie to Goodell about the infamous domestic abuse incident with his wife, Janay. This contradicts how, upon issuing an indefinite suspension to Rice back in September, Goodell suggested Rice had not been forthright about the story.
"Well many of us know Roger Goodell, so I do have to defend him," Earhardt said Monday on Fox's Outnumbered, after the rest of her co-hosts tore into the commissioner.
"He has been very lovely to my family, very nice, very friendly to many of us here at Fox know him, and I take his word over Ray Rice's word any day," she added. "I'm sorry."
Guest host and "#OneLuckyGuy" Lou Dobbs pushed back, noting that her great relationship with the commish doesn't exactly stand up to a judge's conclusions based on all facts available.
"That's what makes America great," he said of Earhardt's disagreement. "But the reality is that I got a district court judge on my side. Your turn."
Earhardt replied: "I've got the truth on my side,"
And with that, anecdotal evidence becomes truth.
(Goodell is married to former Fox anchor Jane Skinner.)
Watch below, via Fox:
[h/t TPM]
— —
>> Follow Andrew Kirell (@AndrewKirell) on Twitter
Have a tip we should know? tips@mediaite.com