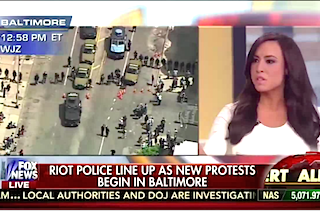 Tuesday afternoon, during his joint press conference with Japanese Prime Minister Shinzo Abe, President Barack Obama spent a full 14 minutes laying out six distinct points in reaction to the Baltimore riots. But immediately following his remarks, Fox News' Andrea Tantaros indicated she was not pleased and set to tear the remarks down.
"I think the president sent a lot of mixed messages in his remarks," the Outnumbered host said. "Of course we feel sorry for the family of the victim in this," she added, but warned that "we don't know enough and I don't think the president knows enough about what happened."
"What disturbs me the most is in his remarks, he buried what's really going on here and we have all seen the footage, that was pure criminality and mayhem last night," Tantaros continued, lamenting that Obama merely "wagged his finger" at those who were looting. She also criticized the president for "blaming" both the police and the media.
"I would have expected a little harsher rhetoric from him," she concluded. "There is absolutely no excuse for what is happening, and harsher terms would have been better coming out of this president at a time like this."
That last sentiment precisely echoes Obama's third point in his remarks. "There's no excuse for the kind of violence that we saw yesterday," he said in the press conference. "It is counterproductive. When individuals get crowbars and start prying open doors to loot, they're not protesting, they're not making a statement, they're stealing.
"When they burn down a building, they're committing arson," he added. "And they're destroying and undermining businesses and opportunities in their own communities that rob jobs and opportunity from people in that area."
Watch video below, via Fox News:
[Photo via screengrab]
— —
>> Follow Matt Wilstein (@TheMattWilstein) on Twitter
Have a tip we should know? tips@mediaite.com