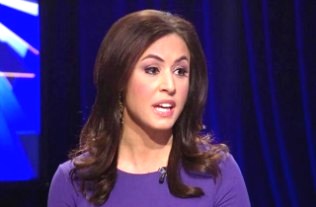 Fox's The Five co-host Andrea Tantaros has filed suit against the radio network hosting her morning talk show, claiming the company defrauded and breached its contract with her. She also ended her employment with the company, effective this past Wednesday.
TheWrap reports that Tantaros filed suit partially because the company has left her "with a nearly staff-less show that could only book ''C-list' quality guests.'"
"TRN's dire financial troubles have unfortunately affected its ability to uphold multiple contact responsibilities to Ms. Tantaros," the conservative star's lawyer, Joseph Cane, told TheWrap. Tantaros, he said, "has fulfilled the duties of her contract for the past two months while TRN has kept her in the dark, fired her staff, and the staff at TRN necessary to sell the show to advertisers."
Among the claims in the suit, Tantaros alleges that TRN's CEO Mark Masters made several false statements while recruiting her to host a show. According to Tantaros, the company also promised to invest millions in promoting her show and had failed to disclose an ongoing lawsuit with one of its syndicators.
The suit details how Tantaros found herself with a small staff:
"Plaintiff Tantaros found herself in a situation wherein she no longer had a competent executive producer, a full-time call screener, a paid assistant, or a sound effects manager, and further, had either no guests or only decidedly 'C-list' quality guests, was provided with no research for the third-rate guests that were booked for the Tantaros Show, a lack of sufficient research for the topics at hand, provided with no editorial guidance, and she was expected by Defendant TRN to basically produce her own show."
Tantaros also alleged that she is still owed "several" salary payments. As TheWrap reports, with Tantaros gone, TRN loses the seventh-rated talk radio show in the United States. The company has also recently lost big-name hosts like Laura Ingraham and Michael Savage.
Full report here.
— —
>> Follow Andrew Kirell (@AndrewKirell) on Twitter
Have a tip we should know? tips@mediaite.com