Fox's Andy Levy and Red Eye Tear Apart Stephen Colbert for Misusing Their Quotes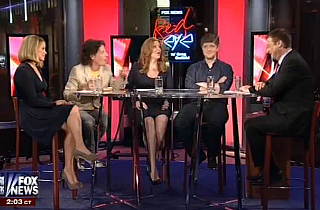 As we reported earlier this week, Stephen Colbert presented soundbites from Fox's Andy Levy and Greg Gutfeld as something they were not. Even though the Red Eye personalities were mocking right-wing outrage over President Obama's foot on a White House desk, Colbert used the clips to suggest the two Fox Newsers were genuinely outraged. During last night's Red Eye, Levy and his panelists ridiculed the Comedy Central host.
"You don't have to think it is funny, but you have to know it is a joke," Levy began his monologue. "That's something I said to people on Twitter who took Tweets seriously when they weren't meant that way. Stephen Colbert tackled the outrage over a photo the White House released of President Obama with his foot on the Oval Office desk. I guess the only problem was there wasn't a hell of a lot of right-wing outrage. Here is how you can tell: the first clip he used as an example is Red Eye mocking the outrage. But he didn't realize that is what he was doing."
After playing the Colbert clip in question, Levy delivered a scathing critique of The Colbert Report:
"Kind of embarrassing. Remember, Stephen, you don't have to think it's funny, but you have to know it's a joke. It's okay, though, Red Eye has only been around for six-and-a-half years for the network you are obsessed with. No reason you should know that mocking outrage on all sides is the kind of thing we do every night. No reason you or one of the many, many people on your staff should do five minutes of research before you basically do the equivalent of running something from The Onion as a real news story. Maybe part of the problem is the idea that a show could poke fun at the excesses on all sides of the political debate doesn't make sense to you. Maybe part of the problem is that we don't have a studio audience like you do, and maybe you've lost the ability to tell when something's tongue-in-cheek without the reassurance of the immediate response to back you up. I don't know. Maybe you knew we were actually joking and, for some reason, you decided you just didn't care because of Fox News. Or maybe this was a simple screw-up. Whatever the reason, I accept your apology."
Levy's colleague Bill Schulz took a slightly more optimistic tone, noting that even if Colbert's producers attempted to "play fast and loose" with the truth, the ordeal gets the show some free publicity, especially with the Comedy Central audience who've likely never heard of the late-night Fox show.
-RELATED: No, The Actual Libertarian Movement Didn't 'Go Nuts' — It's Just The One Inside Bill Maher's Head
While he agreed with Levy's "glass half full" assessment, Levy lamented that he simply does not like being "misrepresented" and "lumped in" with "crackpot, right-wing radio hosts" like the one who did believe the Obama foot-on-desk represented proof of the president's secret allegiance to the Muslim Brotherhood or something.
Watch the full segment below, via Fox News:
— —
>> Follow Andrew Kirell (@AndrewKirell) on Twitter
Have a tip we should know? tips@mediaite.com