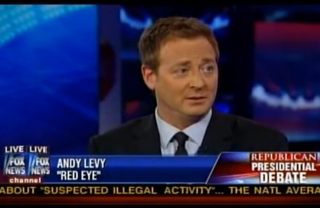 The Republican presidential debate Thursday night elicited quite the skepticism on the left for attracting only five low-wattage candidates and producing no frontrunner (well, besides Herman Cain). But the right had its own qualms about the field, too, and on last night's Hannity the Great American Panel agreed in the weakness of the candidates, with Red Eye's Andy Levy concluding that the only winners were "President Obama and heroin."
The latter, of course, somehow became one of the most contested issues of the Republican debate when Rep. Ron Paul made a passionate argument for its legalization, even polling the audience on how many people would do it. That sort of emphasis on issues that seemingly have nothing to do with what is currently in the public's consciousness was only one of many flaws the panel saw in the field. Wall Street Journal columnist James Taranto suggested "Pawlenty By Default" as the GOP's general election bumper sticker and admitted he didn't "have time" to see the debate. He attributed much of the weakness to inexperience, however, expressing hope that "some of these governors" like Mitch Daniels toss their hats in the ring.
For the one liberal on the panel, contributor Alicia Menendez, the debate was a cause of celebration, though she confessed there was one candidate who could truly stand a chance: Jeb Bush. More conventional guesses like Florida Sen. Marco Rubio and New Jersey Governor Chris Christie she found untenable, an estimate Sean Hannity disagreed with staunchly. Hannity also disagreed with Levy's total dismay, arguing that any of the candidates would be preferable to him than President Obama. "I know you would [vote for them]," Levy countered, "but I can't see America voting for any of these guys." With his newfound popularity though, Levy gave the "smallest loser" title to Herman Cain.
The segment via Fox News below:

Have a tip we should know? tips@mediaite.com