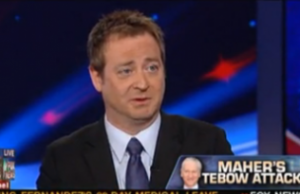 Earlier in the day, the cast of The Five made a fairly convincing case for caring about Bill Maher tweeting gross things about Tim Tebow and his religion over the weekend. On tonight's Hannity, Andy Levy (typically of Red Eye) providing a fairly weighty counterpoint on the same issue: Maher, he suggested was "not a politician, he's not running for office… who cares?"
RELATED: Bill Maher's Christmas Eve 'Jesus F**ked Tim Tebow' 'Satan Is Tebowing' Tweet Stirs Outrage

Levy, along with Kerry Picket and Mo Elleithee joined Hannity host this week Mark Steyn on the "Great American Panel," where the topic came up. Picket and Elleithee expressed their outrage at Maher's "vile" tweet (a profane "joke" about Tebow's football failures evoking Satan and Hitler), with the latter comparing it to "some of the evangelical preachers criticizing Mitt Romney and Jon Huntsman for real criticism." Levy was far cooler-headed on the matter.
"Bill Maher tweeted this for one reason and one reason only: to get a rise out of people. Why give him the satisfaction?" Levy argued, suggesting that "people need to stop being outraged at what comedians say" because "part of their job is to say things that are outrageous." "He's not a politician, he's not running for office, he's got a show on HBO and he's a comedian– who cares?" he concluded.
Steyn agreed, except to add that, in a world of "politically correct comedy," comedians have their feet held to the fire for far less outrageous offenses. Picket noted as well that there were comedians like Maher and, to some extent, Jon Stewart, who also wanted political influence, and when they demand to be taken seriously, they should be held to a different standard. "I think Jon Stewart is in a separate category than Bill Maher," Levy responded. "For one, he's funny."
On the greater topic of Tebow's religion, the panel agreed that a worrying aspect to the entire affair is that the odds of those who vehemently support or criticizing Tebow for what he does sticking to their positions should Tebow be Muslim instead of Christian are slim.
The segment via Fox News below:

Have a tip we should know? tips@mediaite.com