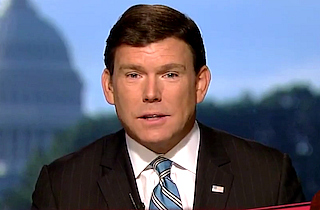 Fox News host Bret Baier told the Fox & Friends Monday morning that the Democrats have the upper hand in the battle over the looming government shutdown, in part because they had been more unified in their approach than Republicans had, and that chances were slim to none the GOP could shave off even a few votes in the Senate to pass a continuing resolution that affected ObamaCare.
"What are the chances of five Democrats saying, 'Okay, Harry [Reid], sorry, I'm going to have to go to the Republican side?'" co-host Steve Doocy asked.
"I don't think it's high at all," Baier responded. "I think it might be down in the single digits, chance-wise. So far Democrats have shown a unity that has not been the same on the Republican side. They are sticking with the Senate majority leader and the president. So I don't think that's a possibility in the Senate. I think Reid is going to strip this with Democratic votes, and send it to the other side."
"Why hasn't the president taken this opportunity, instead of golfing, being out, to talk with Republicans, to get something done for the people?" new co-host Elisabeth Hasselbeck asked.
"He and the administration feel like they have the upper hand here—and they may, in this case, in the fact that they have some Republicans who are really worried about the impact of this shutdown," Baier said. "I do think that it's possible when the bill comes back from the Senate that the House throws one more attempt saying okay, take out the delay, but leave the repeal of the medical device tax because 79 senators voted for that repeal when it came up in the Senate earlier this year."
Bonus: just before this clip, Baier said he met his wife on a blind date at Rolling Stones concert. Point: Baier.
Watch the full clip below, via Fox News:
[Image via screengrab]
——
>> Follow Evan McMurry (@evanmcmurry) on Twitter
Have a tip we should know? tips@mediaite.com