Bret Baier Refuses to Criticize Obama Golfing, No Matter How Much Fox & Friends Wants Him to…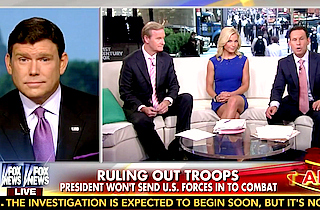 Perhaps the prime benefit of the talking point is its complete imperviousness to any countervailing force: a talking point true two minutes ago remains true now, regardless of anything that may have occurred in between.
See you now Fox News host Bret Baier, who appeared as usual on Fox & Friends Monday morning to discuss the insurgent crisis in Iraq, but declined to take the hosts' setup and criticize President Barack Obama's weekend round of golf, instead reminding the hosts that there were no easy answers in Iraq.
"There has been a lot of criticism of the president taking this four day holiday for Father's Day golfing and then doing fundraising, and he's been criticized for his inaction, that he's just considering all these military options," guest host Anna Kooiman said. "What do you say?"
"There are a lot of lawmakers who are bringing that up," Baier said, but then added:
"The bottom line is that what to do about Iraq is pretty complicated, because once the U.S. gets involved in some way shape or form militarily — and the president has drawn the line that no boots on the ground will be there — you have a different animal. The other thing is that Iran is now actively inside Baghdad. And essentially their special operations forces, the head of that is now working with the iraqis. So it is a very three-dimensional chess complicated deal…I think there is the frustration is that there aren't a lot of options, that the Iranians have a lot of influence inside Iraq. That is a scary prospect for people who are worried always about Iran wanting a neighbor they could control. You essentially have Iraq breaking up in to three parts. of Sunni part, Kurdish part, and Shia part. Vice President Biden talked about this years ago, but it may be turning out to be what it is."
To which Steve Doocy replied: "And this as the president golfs." It's as if Baier was never there.
Watch the clip below, via Fox News:
[Image via screengrab]
——
>> Follow Evan McMurry (@evanmcmurry) on Twitter
Have a tip we should know? tips@mediaite.com