Fox's Beckel Triples Down On Desire To Stop Visas For Muslim Students, Clashes With The Five Co-Hosts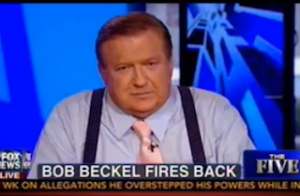 The Five co-host Bob Beckel waited until near the end of Tuesday afternoon's show on Fox to address his recent controversial suggestion to "cut off Muslim students coming to this country," but when he did, he stood by his statements. Beckel made the original comments during a panel discussion on The Five Monday, drawing some startled reactions from his more conservative co-hosts.

Earlier today, he appeared on Fox with Megyn Kelly, who pushed him to explain what he meant and warned him that he was entering "dangerous" territory. That discussion evidently did not deter Beckel from tripling down on his comments today.
"Despite the early morning calls from my liberal friends who hung up on me," Beckel said, he decided not to "pull back" on what he said. He reiterated that he is not saying the 75,000 Muslim students in the country now or the 20,000 more scheduled to come this fall need to go anywhere, he just wants to stop letting Muslim students in for the next two years. "If the FBI could not deal with this fellow in Boston with all they had on him," Beckel said, "it seems to me that we ought to give time for them to clear up their problems with the current Muslim population here and then let students come back in."
Beckel's comments drew vastly different reactions from the four other co-hosts, who typically skew more conservative than he does. Eric Bolling and Andrea Tantaros both backed Beckel up, seemingly surprised by how much they agreed with him.
Dana Perino went the other way though, pushing back on Beckel's suggestion that we should be discouraging Muslim students from coming to America to learn and saying "educational diplomacy is one of the best things that we have." She added, "they are going to be educated somewhere, and wouldn't you rather have them here and get a taste of America and freedom than overseas?" and "we cannot wall ourselves off from the world."
Greg Gutfeld took the route of making a joke, quipping, "I find it funny that people who are angry at you over cutting off student visas are usually less angry about terrorists cutting off people's heads."
Beckel concluded by hedging a bit, saying, "I'm not suggesting the vast majority of these students are radicals bent on doing harm to the United States." But he does believe that of the tens of thousands of Muslims students in this country, "there's a percentage of them that are potentially dangerous."
Watch video below, via Fox News:
—
>> Follow Matt Wilstein (@TheMattWilstein) on Twitter
Have a tip we should know? tips@mediaite.com