Fox's Bernie Goldberg Stands Up For Rick Sanchez: 'I Don't Think He Should've Been Fired'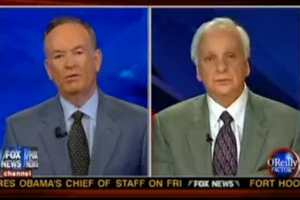 Finding allies in the media can't be easy nowadays when you're Rick Sanchez. The fallout from his meltdown on Friday still on the way, his comments about Jon Stewart and Jews have been nearly unanimously condemned (the "nearly" going to Christopher Hitchens) by the media community. Tonight, though, on The O'Reilly Factor, a program Sanchez spent many hours on air attacking, he has found another unlikely supporter: Bernie Goldberg.
Host Bill O'Reilly was not incredibly receptive to the idea of having any sympathy for Sanchez. He began the segment with a clip of Sanchez's appearance on Stand Up! with Pete Dominick that had been eclipsed for being relatively acceptable: Sanchez claiming that O'Reilly was fueling racial tensions by having "at least three stories in every O'Reilly Factor that involves black teenagers who are in a hip-hop band with their underwear sticking out of their pants." This, O'Reilly argued, indicated that he was not "an honest man," though he did cede that his firing was probably not solely attributable to his comments on the radio program.
Goldberg flat-out refuses to believe that he deserved the ax. Speaking as "a charter member of God's chosen people," Goldberg told O'Reilly, "I don't think he should've been fired… nobody gets fired in television unless management wants them fired for some other reason anyway." He noted the recent departure of former CNN president Jon Klein, who had initially hired him, and argued that he was merely "expendable" during the reconfiguring of the network. O'Reilly agreed on this front, but did not go as far as to find Sanchez's firing concerning. Goldberg, on the other hand, argued that "it's a very dangerous road when you start firing people for stupid things," wondering whether a white journalist who opposed affirmative action could receive similar treatment.
The full conversation from tonight's Factor via Fox News below:

Have a tip we should know? tips@mediaite.com