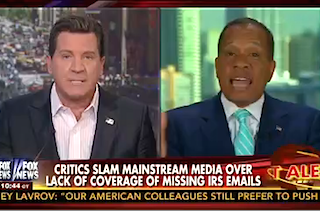 On Saturday morning, Fox News' Eric Bolling used his Cashin' In show to examine the mainstream media coverage this week of the IRS missing emails compared to how those same major news organizations covered Chris Christie's "Bridgegate" scandal. While broadcast news apparently spent just three minutes on the IRS this week, they dedicated nearly two hours to the Christie story in its initial week.
After contributor Michelle Fields attacked the liberal press for ignoring the story and praised Fox News for taking it on, Bolling turned to Juan Williams, who had a different view on the matter.
"You're comparing apples and orange oranges. Remember, we have been down this road before," Williams said, arguing that you would have to go back to the first round of IRS hearings to make a fair comparison. "Why don't you go back to when the IRS scandal broke?" he asked.
"I'm not talking apples and oranges, these are apples and apples," Bolling shot back.
The rest of the panel jumped all over Williams when he declared, "There's no news here!"
"Juan, how are you not outraged by this?" Fields asked Williams. "This is a government agency that is targeting people because of their political beliefs and then they just act as though emails disappear. You don't think that is suspicious?"
Williams made the panelists even angrier by saying, "I think you guys are loving this paranoia conspiracy." He said "it's easy to hate on the tax man," but there's no "evidence" to back up their claims.
"Juan is drinking the kool-aid," Fields said before Bolling ended the segment.
Watch video below, via Fox News:
[Photo via screengrab]
— —
>> Follow Matt Wilstein (@TheMattWilstein) on Twitter
Have a tip we should know? tips@mediaite.com