Fox's Bolling Goes Full 'Conspiracy Theorist' on Obama, Ferguson and 'Amnesty'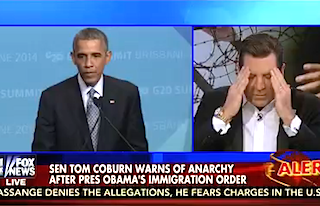 Tonight, President Barack Obama is planning to announce his executive action on immigration. But why now? According to Fox News' Eric Bolling, the president has until the end of the year to issue his deportation protection, but the real reason he's making the announcement tonight is because it will coincide with another major event: the Ferguson, Missouri grand jury decision in the Michael Brown shooting case.
"Can I be a little conspiracy theorist for a minute?" Bolling asked his fellow hosts on The Five. "Why now? What's coming down the pike very soon, within hours, maybe days? Ferguson."
"So, he does this. We all go, 'Oh my gosh, he just did it.' And the something happens in Ferguson and everyone goes, 'Uh oh, forget the amnesty thing, let's go see what's going on in Ferguson,'" Bolling continued. "And then two or three weeks down the road we all go, 'Did he just slip amnesty in without us really talking about it too much?'"
"I don't know, maybe I'm crazy," he added.
"I think you might be a little crazy," Dana Perino replied. In her view, the timing had a lot more to do with the Latin Grammys, which Univision has decided to delay by 10 minutes so it can air Obama's speech, than it does with Ferguson.
If nothing else, Bolling's theory does not give the media much credit for being able to cover more than one story at a time.
Watch video below, via Fox News:
[Photo via screengrab]
— —
>> Follow Matt Wilstein (@TheMattWilstein) on Twitter
Have a tip we should know? tips@mediaite.com