Fox's Bret Baier: 'Huge Split' Between U.S. and Israel Over Potential Iran Deal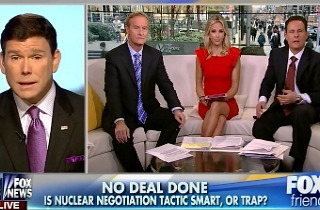 On Monday, Fox News Channel anchor Bret Baier highlighted some of the aspects of a potential deal with Iran over its nuclear program that were negotiated over the weekend by members of the international community. Baier reported that the details of a deal indicate a "huge split" between America and Israel is forming. Even if the White House agrees to a deal, Baier noted, Congress and America's allies abroad could scuttle the emerging arrangement.

The Fox & Friends hosts began the segment by noting the broad divergence of opinions about the deal expressed by Secretary of State John Kerry and Israeli Prime Minister Benjamin Netanyahu on the Sunday news programs.
Kerry expressed support for the negotiations, while Netanyahu called the framework "not a good deal."
"This is a huge split between the U.S. and Israel, at least right now," Baier said. "That's why you saw U.S. officials going to Israel on Sunday to try to mend some of this."
RELATED: Journalists And Human Rights Officials Blast Israel In Private Facebook Group
Baier read a portion of an editorial in an Israeli newspaper which called the emerging deal between U.S. and Iran, "a rare category five flare-up, a super storm of U.S./Israeli relations."
Brian Kilmeade noted that the French president determined that the details of one proposed deal emerging from the negotiations over the weekend were too lenient on Iran, scuttling that deal's framework.
Baier added that Congress, too, could intervene on behalf of Israel if a proposed deal appears unacceptable to Tel Aviv. He noted that the political prospects of a rebuke from both America's allies abroad and Congress over nuclear negotiations with Iran would be a "precarious position for a pretty vulnerable administration."
"Looks like a series of miscalculations on the part of the Obama administration," Steve Doocy observed.
Watch the clip below via Fox News Channel:
[Photo via screen grab ]
— —
> >Follow Noah Rothman (@NoahCRothman) on Twitter
Have a tip we should know? tips@mediaite.com