Fox's Bret Baier: Obama Rushing to Mend 'Split in Democratic Party' Over Obamacare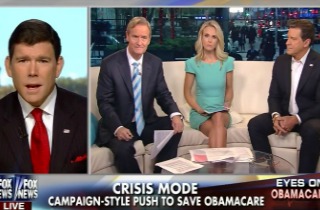 Fox News Channel anchor Bret Baier joined the hosts of Fox & Friends on Monday where he discussed the growing rift within Democratic ranks over the Affordable Care Act's implementation. Baier said that the president's actions indicate he is attempting to mend a split on the left over the ACA's problematic roll-out.

Steve Doocy began by noting that President Barack Obama will be holding a phone call on Monday night with his repurposed campaign team, Organizing for Action, to allay concerns about the ACA's implementation.
"Clearly, there's an effort that the White House, the Administration, needs to shore up support with the left," Baier said. He said that another indication of this phenomenon was Friday's vote for a Republican bill which would impose legislative fixes to the ACA. 39 House Democrats voted for that proposal.
"Clearly, there's a split within the Democratic Party," Baier observed.
RELATED: Pelosi Dismisses Democratic Support for GOP Obamacare 'Fix': Vote Was 'Political'
Eric Bolling asked if Democrats who were not facing potentially tough reelection battles in 2014 would eventually begin to "jump ship" on the ACA as well. Baier said it was possible, given how Sen. Dianne Feinstein (D-CA), who is not up for reelection, expressed her support early for a Democratic proposal to impose fixes on the ACA.
"While the president came out and said we should be able to fix this with regulations, there are a lot of lawmakers on Capitol Hill who doubt that and think there needs to be a legislative fix," he added.
Baier later said that Democrats on the Sunday talk shows were obliquely addressing the president's self-imposed deadline to have the health insurance exchanges website functioning by November 30.
"They're preparing people to get let down again," Baier said. "The website will not be fully operational by the end of the month."
"One in five Americans won't be able to log on and, so, that's going to be called success," he added.
Watch the clip below via Fox News Channel:
[Photo via screen grab ]
— —
> >Follow Noah Rothman (@NoahCRothman) on Twitter
Have a tip we should know? tips@mediaite.com