Fox's Brian Kilmeade Goes Off: Why Can't We Identify Problem, Say 'Islamic Extremists Are Trying To Kill Us'?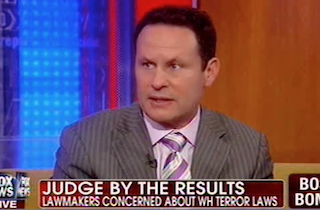 The Fox & Friends crew this morning took a critical look at the investigation into the Boston Marathon bombing — both the approach taken before the attack and after, now that one of the suspect's has been captured. Noting Russia's warnings about the dead suspect, Tamerlan Tsarnaev, the hosts questioned the FBI's lack of initiative.
"He never got on that list, but the fact is, they knew about it and, the fact is, there is still no communication between the FBI and CIA," Brian Kilmeade remarked, as Steve Doocy asked, "How often does the country of Russia call up the United States and say you've got to keep an eye on somebody? It seems like they were in an awful hurry to take him off the 'Hey, Take a Look at This Guy' list."
Later in the segment, Kilmeade expressed his frustration after learning that the surviving suspect, Dzhokhar Tsarnaev, was read his Miranda rights after authorities got in 16 hours of questioning… and then proceeded to fall silent. "Let the FBI do their job!" Kilmeade contended. "What was necessary about this?"
Kilmeade was especially impassioned this morning, as the crew went on to discuss Rep. Tom Cotton's (R-AR) remarks in which he raised "grave doubts" about President Obama's counterterrorism efforts.
"Maybe it would help to say, Islamic extremists are trying to kill us and we have to do everything we can to stop them before they kill us," he charged. "We're gonna ask for the moderate Islamic community to stand up — those who don't want to, most of them, I hope — they should stand up and squelch that radical element within them down."
"If that is not going to happen, what is plan B?" Kilmeade asked. "Can we at least identify it on a regular basis so we're aware of this? Instead of saying a radical or pretending as if this is just a guy who had no job that was wandering around and wanted to make an impact."
Take a look, via Fox News:

Have a tip we should know? tips@mediaite.com