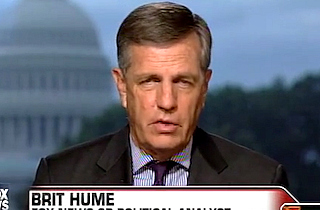 On Fox News Monday morning, Brit Hume accused Senator Ted Cruz (R-TX) and his Congressional allies of improvising a high-stakes strategy to defund ObamaCare that would either fail or wind up getting the GOP blamed for a government shutdown.
Hume noted that the only way Cruz and others in the Senate could use the Senate's sixty-vote threshold to their advantage is by filibustering their own bill, "which would be a very peculiar position to be in," and predicted the resolution would be amended to include ObamaCare funding and then passed through the House with some Republican votes.
"But there would be hell to pay among some factions within the Republican Party, that this would amount to betrayal, which is what Ted Cruz and his House allies are counting on," Hume said. "My guess is this effort will fail."
Host Martha MacCallum asked if he thought the GOP could skirt around its current predicament by passing the budget piecemeal, as Cruz had proposed on Fox News Sunday.
"You could do that," Hume replied. "But time is short and the government's low on funds….You have to do it step by step, it would be very time-consuming. It's not clear that would play out. This is stratagem that has just been thought of, for this situation, by members kind of making things up as they go along."
No matter what, Hume strongly cautioned against a shutdown.
"Time after time in these fights over the years, when there's a been a shutdown prospect or an actual partial shutdown, which has happened a couple of times, Republicans got all the blame," Hume said. "Even people who are terribly disappointed in the performance of government do not want to see it shut down. The government does many things. Businesses and individuals all across the country interact with government every day. What they want is a better functioning government at less expense. What they don't want is the government services to stop, or government agencies to stop."
Watch the full segment below, via Fox News:
[Image via screengrab]
——
>> Follow Evan McMurry (@evanmcmurry) on Twitter
Have a tip we should know? tips@mediaite.com