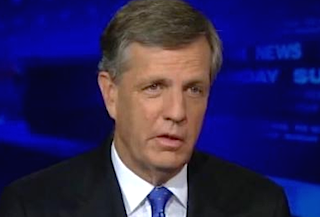 Fox News' Brit Hume appeared on John Gibson's radio show Monday to give his thoughts on the latest news about NBC's efforts to make Meet The Press work with host David Gregory, as well as the Sunday morning political talk show landscape in general. As a regular guest on Fox News Sunday, Hume said he thought Chris Wallace was the most accomplished of the Sunday morning hosts, but also had some sympathy for Gregory, who he suggested should never have taken the Meet The Press gig in the first place.
Hume said he found it "pretty unusual" that NBC would commission a psychological study of Gregory as a new report from the Washington Post indicated, saying it shows just how much NBC wants to figure out how to fix Meet The Press' ratings woes. "To make that public is surprising," he said of the study.
The Fox pundit went on to describe how hard it had to be for anyone to try to fill the shoes of former host Tim Russert, who died suddenly in 2008. If he had been a "mere" White House correspondent for NBC News, as Gregory was at the time, and had been asked to take over for Russert, he's not so sure he would have said yes. "This trouble they're having was probably inevitable," he said, "and it raises the question of whether he should have taken that job."
Aside from Wallace, Hume had some equally kind things to say about Face The Nation's Bob Schieffer, who is currently sitting in the #1 spot in the ratings on CBS opposite Meet The Press and ABC's This Week with George Stephanopoulos. When he came to Fox News, Hume said the one thing he knew he did not want to do was host Fox News Sunday precisely because of how difficult that role can be.
Towards the end of the radio interview, Hume also worked in a dog at Fox competitor CNN, which he suggested may come to regret its non-stop coverage of the missing Malaysia Airlines plane story. Even if they have seem some short term ratings gains, he suggested that viewers who want to see other news have tuned out so when that unique story finally subsides, they may be left empty-handed.
Watch video below, via Fox Radio:
[photo via screengrab]
— —
>> Follow Matt Wilstein (@TheMattWilstein) on Twitter
Have a tip we should know? tips@mediaite.com