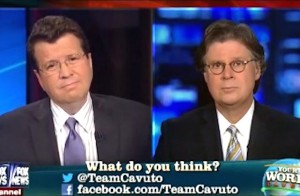 As a staff that collectively watches cable news so you don't have to, we've seen many mini-controversies come and go. They start with a flicker of outrage on social media or television, and then cascade into fodder for a thousand steaming hot takes in print/web media, eventually finding their way into the 24/7 news wasteland of cable. That is, until they've been chewed up, spit out, and forgotten within days.

With that in mind, behold the latest iteration of this phenomenon: Gov. Chris Christie's awkward bro-hug with Dallas Cowboys owner Jerry Jones following Sunday night's playoff victory.
Now, of course, the media had its fair share of jokes last night at Christie's expense: The hug was full of cringe-inducing gyrations, third wheel-ish maneuvers, and happened in the evil emperor Jerry Jones' owner box. But that mockery has now turned into serious political punditry, with questions-askers just asking whether this hug will forever haunt Christie should he pursue the presidency.
Fox News host Neil Cavuto said Monday afternoon that this hug will be Christie's "Mike Dukakis in a tank moment," referring to the goofy 1988 photograph that helped sink the chances of that year's aforementioned Democratic presidential nominee.
"Does that look really presidential to you?" Washington Examiner political writer Byron York agreed via question, later noting that nothing's off-limits in politics. (True.)
"No," Cavuto said. "I don't like grown men doing this type of thing. That's just me. I just don't."
Admitting "this is not the most serious thing in the world," York continued with a straight face: "I do think that this sort of thing sort of fits into the Christie temperament question."
Cavuto later added: "I don't care if you're liberal or conservative, a hug with Jerry Jones in a very uncomfortable situation in a suite will not work for you."
He concluded with parting advice to Christie: "Next time, just shake hands."
Watch below, via Fox:
Have a tip we should know? tips@mediaite.com