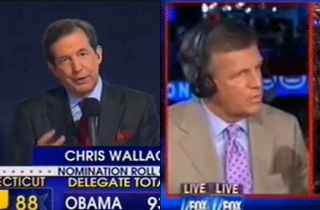 Following former President Bill Clinton's speech at the Democratic National Convention on Wednesday evening, Fox News veteran reporters Brit Hume and Chris Wallace offered praise for the speech, both lauding the former president's talent in framing an argument and effectively conveying it to a large audience.
During his post-speech reaction, Hume told convention anchors Megyn Kelly and Bret Baier that the speech took him back to the days of Clinton's presidency.
"If I were ever in trouble and if I were guilty — especially if I were guilty — I would want Bill Clinton there to defend me because nobody does it better," Hume said. "He's the most talented politician I've ever covered and the most charming man I have ever met. No one in my opinion can mount an argument — frame an argument more effectively than he can."
He did go on to say that his praise "doesn't mean everything he said was true," but noted that, in his opinion, the speech "had the strengths of a standard Clinton speech: engaging, convincing, able to deal with facts, but it was wonky."
Later on in the evening, Fox News Sunday host Wallace told Baier and Kelly that he felt a "tremendous amount of excitement" within the crowd, and dismissed the media criticism that Clinton's speech was too long: "I remember when Bill Clinton gave his State of the Union speeches, I would say he went too long. But they'd find out they did polls and people loved detail and loved length and didn't get turned off by the length."
"The reason he is such an effective political speaker is because he is such an effective political thinker," Wallace continued, reiterating what his colleague had said earlier: "He is able to frame a political argument more effectively than anyone I've ever seen in politics," he said.
Watch Hume's clip below, via Fox News:
And Wallace's clip:
— —
>> Follow Andrew Kirell (@AndrewKirell) on Twitter
Have a tip we should know? [email protected]