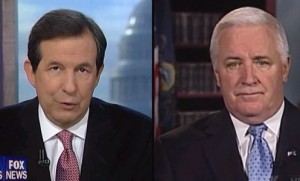 From his position on the Penn State board of trustees, Pennsylvania Governor Tom Corbett voted to fire coach Joe Paterno for his involvement in the cover-up of assistant coach Jerry Sandusky's multiple allegations of sexually abusing young men. Defenders of Paterno claim that he fulfilled his legal obligation by bringing the claims to his superiors, and on Fox News Sunday today, Chris Wallace asked Corbett to explain why the board voted to fire Paterno in the first place.
RELATED: President Obama Says Penn State Rape Controversy An Occasion For 'Soul-Searching'
Corbett argued the decision to fire Paterno along with PSU President Graham Spanier was made because the board "lost confidence in their ability to lead," while declining to give more details on what specifically about Paterno's behavior resulted in the loss of confidence. Corbett did not answer Wallace's question of whether the board should have allowed Paterno to continue for the rest of the football season, though he did add he made his decision, in part, for the children of his state.
Wallace pointed out to Corbett that all appearances indicate Penn State was more concerned with defending Paterno and Sandusky than protecting the students involved in sexual abuse. Corbett agreed, saying that one of the biggest problems he had with the case was the university's failure to act.
Wallace noted at several points during the interview that Corbett was being less than open about all the details of the case being deliberated by the board of trustees, and Corbett admitted he was not at liberty to divulge everything.
"I have to be very careful with what I say, because I'm under an ethical obligation in this investigation as to what I can and can't say."
Wallace tried to get Corbett to explain how such a good model of a college football team veered so far off the track, but Corbett deferred to others involved in the investigation and admitted he couldn't fully answer the question. Corbett was similarly careful in his words when Wallace asked him about a potential investigation into the charity Sandusky was heavily involved with.
RELATED: Mediaite's Tommy Christopher: Penn State Scandal Is 'A Crime Against Humanity'
Even when Wallace tried to get Corbett to say if whether the scandal is over or whether more people will come forward, Corbett was tight-lipped and said he doesn't have all the details of the Attorney General's ongoing investigation. However, he did express his opinion that more victims may come forward as the investigation continues.
Watch the interview below, courtesy of Fox News:
Have a tip we should know? tips@mediaite.com
Josh Feldman - Senior Editor