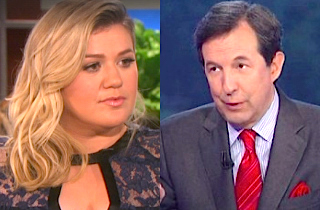 Chris Wallace should probably stick to grilling Republican presidential candidates.
Somehow, during a radio interview with conservative host Mike Gallagher on Friday, the Fox News Sunday host got pulled into a discussion about former American Idol star Kelly Clarkson's weight. The two men were discussing Little Caesars' bacon-wrapped crust pizza when Gallagher brought up "fat shaming."
"Have you seen Kelly Clarkson? You know the singer, Kelly Clarkson?" Gallagher asked Wallace. "Holy cow, did she blow up" Gallagher continued.
At first, it seemed that Wallace was going to avoid joining in on this bizarre line of questioning, saying he thinks Clarkson has "got a lovely voice." But then, he let this comment slip: "She could stay off the deep dish pizza for a little while."
Listen to audio below, via The Mike Gallagher Show:
Coincidentally, Clarkson appeared on The Ellen DeGeneres Show Friday, where she spoke out about her struggles with weight issues after giving birth to her first daughter last June.
"I think what hurts my feelings for people is that I'll have a meet and greet after the show and a girl who's like bigger than me will be in the meet and greet and be like, 'Wow, if they think you're big I must be so fat to them,'" Clarkson told Ellen DeGeneres. "And it's like, you're just who you are. We are who we are — whatever size. And it doesn't mean that we're gonna be that forever."
"Sometimes I'm more fit and I get into kickboxing hardcore," she added. "And then sometimes I don't and I'm like … I'd rather have wine."
Watch video below, via Ellen:
[h/t MMFA]
[Photo via screengrab]
— —
>> Follow Matt Wilstein (@TheMattWilstein) on Twitter
Have a tip we should know? tips@mediaite.com