Fox's Chris Wallace To Paul Ryan: 'Why Are You And Romney Losing At This Point?'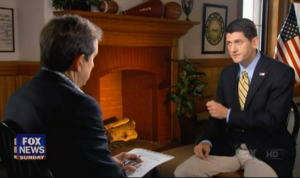 On Fox News Sunday, Chris Wallace sat down with GOP vice presidential nominee Paul Ryan to discuss a host of issues, including the current state of the presidential race. Given that poor state of the economy, Wallace asked Ryan why the Romney/Ryan ticket isn't winning.
"Why aren't you guys running away with this race?" Wallace asked, offering up some statistics about the unemployment rate and GDP growth — especially noting that no president has won re-election with GDP growth as low as 1.3 percent since they started measuring growth in 1930.
"Question: Given all that, why are you and Romney losing at this point?" Wallace asked Ryan.
"We're gonna win this race," Ryan replied promptly. "Given that, we're gonna win this race."
"But you're not at this point," Wallace countered. "You're losing."
Ryan noted that the debate over poll numbers is an endless one, going on to pivot to his argument about the president's "distorting" the truth and and distracting from the real issues. He can't run on hope and change anymore, Ryan said.
Wallace then pointed to polls that showed optimism about an improving economy and the president's ability to handle it. "Isn't [Romney] in danger of losing the rationale for his campaign," he pressed, "that he is the better steward of the economy?"
Ryan argued that in such races, people really focus toward the end, again pointing to the president for distorting the truth.
Finally, Wallace pressed further, asking Ryan, "The fact that the message has not gotten through as effectively as it could, so far, is that your fault, the Romney campaign's fault or is it the voters' fault?"
It's not the voters' fault, Ryan said, again hitting Obama for confusing voters about the issues at stake. We're offering specifics, he said, but not everybody knows those specifics.
The segment below, via Fox:

Have a tip we should know? [email protected]