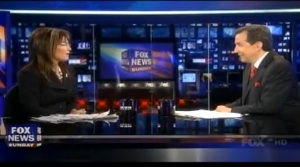 Fox News Sunday host Chris Wallace had Sarah Palin on as guest yesterday and declared that the race for president in 2012 begins Wednesday, November 3rd. The two discussed, very specifically, the former Alaskan Governor's intentions to run for highest office, which was predicated by Palin's previous comment that she'd run "if there's nobody else to do it." Wallace concluded the interview by flatly telling her "I don't think you are going to run."
Part of the discussion was predicated by an comment made earlier by Karl Rove in which he ostensibly criticized Ms. Palin for participating in a "reality show," saying:
"There are high standards that the American people have for it [the presidency] and they require a certain level of gravitas, and they want to look at the candidate and say 'that candidate is doing things that gives me confidence that they are up to the most demanding job in the world'."
In the following clip you can see that Palin responds by first "agreeing with that" but following an interesting comparison to Ronald Reagan's career as an actor in Bedtime for Bonzo. She then addresses the show Sarah Palin's Alaska, appearing on Discovery by declaring "I'm not in a reality show. I have eight episodes documenting Alaska's resources, what it is we can contribute to the rest of the US to economically and physically secure our union, and my family comes along because I am family." Almost sounds…presidential?
Wallace sums up the segment with a uncharacteristically frank and candid opinion, saying "I think you're having too much fun; I think you're making too much money. … I don't think you're going to run."
Watch the clip from Fox News Sunday below:
Have a tip we should know? tips@mediaite.com