Fox's Colmes And Pinkerton Clash Over Whether Media Have Paid Enough Attention To IRS And DOJ Scandals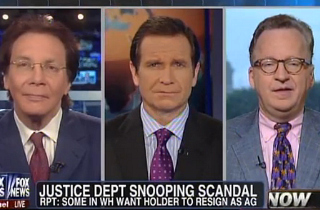 On Happening Now this afternoon, Fox's Alan Colmes and Jim Pinkerton clashed over whether the media has sufficiently covered the scandals surrounding the Internal Revenue Service's targeting of conservative groups for additional tax scrutiny and the Department of Justice's snooping on Fox News and Associated Press reporters.
Pinkerton made the case that the media has effectively dismissed the DOJ scandal by burying it behind less important stories; for example, he cited the New York Times' highlighting of the death of a novel-writing priest while relegating the Holder story to inside the paper. "The media aren't putting the flames up on this story to force action on the part of the Obama administration or Attorney General Holder," he asserted.
Colmes took issue with Pinkerton's claims, noting that both scandals have ("correctly so") been covered a large amount by Fox News and other major news outlets. He then suggested: "The fact is that the public, rightfully or wrongfully, is not as interested in these scandals as perhaps the detractors of this administration would like them to be. I think their eyes kind of glaze over with scandal after scandal after scandal. They're not as concerned about it."
Pinkerton rebutted with a study that found a 5-to-1 ratio among Americans wanting to appoint a "special counsel" to investigate the DOJ scandal to hold the department accountable. As for the IRS scandal, Pinkerton said, "If this had been a Republican IRS operation targeting Democratic (c)(4)s, there'd be a firestorm of meetings whether or not people were watching. … The media are choosing not to play this story up even when they themselves are the target sometimes."
"The Bush administration targeted the NAACP and targeted a liberal church in Pasadena, it got almost no attention," Colmes said, referring to the previous administration's IRS targeting. "In fact, it's getting more attention now in the aftermath of this scandal than it did at the time."
Watch the full segment below, via Fox:
— —
>> Follow Andrew Kirell (@AndrewKirell) on Twitter
Have a tip we should know? tips@mediaite.com