Fox's Crowley: Media Ignored Cruz Filibuster, But 'Exalts Cult of Death' for Wendy Davis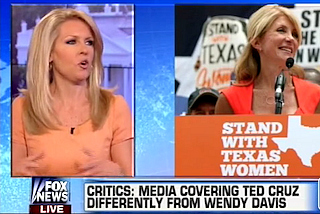 Fox analyst Monica Crowley accused the "leftist media" of deliberately ignoring Ted Cruz's sorta-filibuster on Tuesday/Wednesday, even though it slavishly covered Texas State Senator Wendy Davis' earlier filibuster of a bill restricting abortion access.
"The media in this country are so corrupt and they're so leftist," Crowley said. "You'd be hard pressed to find a more stark example of media bias here. In her case, they praised her looks, her flowing blond hair, her pink sneakers, the way she was dressed. Of course, the root of all of this is the issue for which she stood on that Texas State Senate floor, which was abortion."
"So the leftist media exalts the cult of death known as abortion in this country, and that's why they were cheering her on," Crowley continued. "But a charismatic conservative like Ted Cruz, who stood on the Senate floor for nearly twenty-two hours to defend individual liberty and economic freedom in this country for nearly twenty-three hours, he gets torn apart by the press. It tells you exactly where they're coming from."
RELATED: Politico Accuses Media of 'Bias' in Treatment of Totally Identical Ted Cruz and Wendy Davis
Doug Schoen argued that Rand Paul's filibuster in March received more favorable coverage because his issue—the legality of domestic drone strikes—crossed political divides, while Cruz's filibuster even infuriated members of his own party.
"[Cruz] was representing what most Americans think and believe on this issue, and still the mainstream media would not cover him," Crowley replied. "What's particularly shameful is, as Doug points out, that there were fellow Republicans going after him. You expect the leftest media to attack. You expect Harry Reid and Barack Obama to attack. You don't expect this kind of internecine fighting within the Republican Party. It's shameful."
Both Crowley and Schoen agreed that Cruz would be a frontrunner in 2016.
Watch the full clip below, via Fox News:
[Image via screengrab]
——
>> Follow Evan McMurry (@evanmcmurry) on Twitter
Have a tip we should know? tips@mediaite.com