Fox's Doocy Demands Other Networks Cover Clinton Story They're Already Covering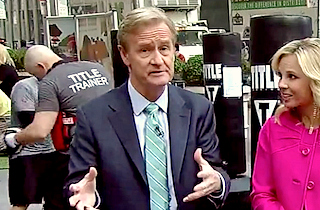 The New York Times' Michael Schmidt, who first scooped the existence of Hillary Clinton's use of a personal email account as Secretary of State, reported Wednesday morning that then-House Oversight Committee Chair Darrell Issa had inquired about Clinton's use of email in 2012, a request to which Hillary did not reply.
On Fox & Friends a couple hours later, co-host Steve Doocy wanted to know whether any other networks would pick up on a story damaging to the Democratic frontrunner.
"I wonder how many of the other channels are covering the fact she was asked, 'Are you using this illegal system two years ago, and she never responded?'" Doocy said. "I would suggest maybe this is the only channel watching it — or maybe CNN. …Who's going to pick it up?"
RELATED: 'The Media' Means Whatever You Want It to Mean: A Play in Two Acts
Doocy was already late. CNN had covered the story forty minutes before that, during John King's Inside Politics sprint. But MSNBC, the network Doocy had implicitly impugned in the above comment, had already covered the story twice, devoting two panel segments in the 7:00 and 8:00-hour B blocks. In fact, thanks to Fox & Friends' focus on tax day shenanigans, Morning Joe actually spent more time on the story than its Fox competitor did.
Neither were the other networks exactly defending Clinton. "It's a drip, drip, drip," CNN political reporter Nia-Malika Henderson said. "Just as she's rolling out this campaign trying to be the first lady next door, the Secretary of State next door who everybody's familiar with and comfortable with — all of this with scandal hanging over her. They aren't done with answering questions about this." Meanwhile both MSNBC segments focused on the damage the story has done to Clinton's trustworthy ratings.
Watch the clip below, via Fox News:
[Image via screengrab]
——
>> Follow Evan McMurry (@evanmcmurry) on Twitter
Have a tip we should know? tips@mediaite.com