Fox's Dr. Keith Ablow: Irresponsible To Send Amanda Berry Home Yet Because Her 'Demons' May Come Back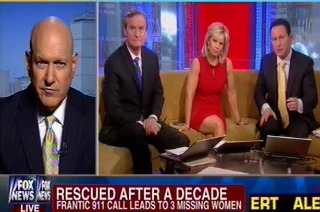 Fox News Channel contributor and psychiatrist, Dr. Keith Ablow, appeared on Fox & Friends to weigh in on the liberation of Amanda Berry after 10 years in captivity. He told the hosts that he was concerned about the authorities' decision to release Berry from the hospital this soon after her freedom from captivity. Ablow noted that it can take some time before the "demons" of her imprisonment arise, and added that it would be irresponsible to send a prisoner of war home one day after their liberation.

RELATED: Three Brothers Arrested After Three Missing Women Found Alive In Ohio
Brian Kilmeade asked Ablow if he thought it was a "wise move" for authorities to release Berry from the hospital only one day after her escape from 10 years in captivity.
"Listen, I won't second guess the doctors, but it wouldn't have been a bad idea to have her stay a few extra days and get some psychiatric counseling," Ablow said, "because these demons can come home to roost months, years later."
Ablow said that this was a critical period and Berry may not yet be able to share the details of her imprisonment.
"Yea, we have no idea," Gretchen Carlson agreed. "Like, were they kept in the basement for 10 years? Were they chained? Were they roped? Did they ever go outside? Did they have contact with TV? Did they have contact with, you know, just any social media? Internet? Anything? We don't know any of those questions."
She noted that what investigators did know was that Berry had the foresight to get a neighbor to free her from captivity when she did. Ablow said that it is possible that the three captives believed that their alleged captor, Ariel Castro, was preparing to do something worse than keep them imprisoned.
"He's going to dispose of us — who knows what," Ablow guessed.
He added that it was possibly irresponsible to send Berry home this fast after her liberation. "You wouldn't send somebody home right after coming home from a tour of duty in the military where they were POWs," Ablow said. "The idea of her going home and everybody congratulating her and celebrating, that's a reentry phase that can be traumatic in and of itself."
Watch the segment below via Fox News Channel:
> >Follow Noah Rothman (@NoahCRothman) on Twitter
Have a tip we should know? tips@mediaite.com