Fox's Ed Henry Grills WH Adviser: People Not Working Due to Obamacare Aren't 'Worse Off'?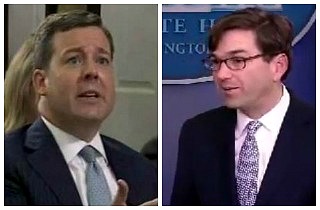 Jason Furman, Chairman of the White House Council of Economic Advisors, was on the receiving end of a grilling from Fox News Channel White House correspondent Ed Henry on Tuesday over Furman's claim that Americans who leave the workforce as a result of the Affordable Care Act were not "worse off." Furman repeatedly insisted that not being tethered to a job created rather than contracted the number of opportunities of which those people could take advantage. Henry challenged Furman on this assertion.

"The main thing going on here was a change in labor demand," Furman said of a Congressional Budget Office report indicating the equivalent of 2.5 million may leave the workforce as a result of the ACA. "And labor demand, just to be clear, that is the decision that employers are making."
RELATED: CBO Report: Obamacare Will Reduce Fulltime Employment by 2.5 Million
"So employers are cutting jobs because of the Affordable Care Act, that would be a bad thing because that means somebody who really wanted a job wouldn't be able to get one," he continued. "CBO explicitly says that you're not going to see an increase in the unemployment rate, that when you see changes it'll be that person who maybe didn't want to work those hours. They still have the option to. They still can, but in that case maybe they'll decide they don't need to anymore. And that, in their case, might be a better choice and a better option than what they had before."
"Sure, but if they make that choice and they go from 60 to 30, 35 hours, presumably that family is going to have a lot less take-home pay and they're going to have less money to put back into the economy," Henry pushed back.
"This doesn't — they had something before, which was a 65-hour job, and maybe no health care and no great health care options," Furman replied. "You now give them a new option they didn't have, a brand new thing."
Watch the clip below via The White House:
h/t WFB
[Photo via screen grab ]
— —
> >Follow Noah Rothman (@NoahCRothman) on Twitter
Have a tip we should know? tips@mediaite.com