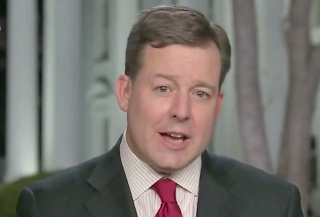 There was an awkward moment Wednesday for both the U.S. news media and Chinese President Xi during a joint press conference between Xi and President Obama. Fox News's Ed Henry made his views on the matter public.
During the conference, which Obama and Xi agreed to after wrapping up an economic summit in China, a New York Times reporter asked questions of both presidents. The one for Xi focused on China cracking down on travel visas for members of the U.S. media trying to visit the country.
Xi initially refused to answer the question, instead taking one from Chinese media. After responding with a prepared statement, inviting suspicion that the question was a plant, Xi returned to the Times reporter's question and answered with a Chinese expression.
"The party which has created a problem should be the one to help resolve it," Xi said, according to a White House transcript. "So, perhaps we should look into the problem to see where the cause lies."
Henry, who is in China, sounded off on Twitter (not the bravest of mediums, but you deal with what you've got). "I'll just say it — regardless of blowback — President Xi is a coward for not answering U.S. press question," he said. "What are you scared of sir?"
Henry followed up in another tweet. "Been lucky enough to ask presidents of France, Philippines and other nations questions. Why don't you have guts to answer tough question, President Xi?" he said.
And in another: "President Xi, if your vision for your country is so good, why not defend it? Why not take one real press question? Why not give journalists visas?"
Other outlets, like Politico and The Hill, noted the press conference's tense moment.
And I'll just say it — regardless of blowback — President Xi is a coward for not answering US press question. What are you scared of sir?

— Ed Henry (@edhenryTV) November 12, 2014
Been lucky enough to ask presidents of France, Philippines & other nations Q's. Why don't you have guts to answer tough Q, President Xi?

— Ed Henry (@edhenryTV) November 12, 2014
President Xi, if your vision for your country is so good, why not defend it? Why not take 1 real press Q? Why not give journalists visas?

— Ed Henry (@edhenryTV) November 12, 2014
[Photo via Fox News/screen grab]
— —
>> Follow Eddie Scarry (@eScarry) on Twitter
Have a tip we should know? tips@mediaite.com