Fox's Ed Henry To Carney: Does Obama 'Still Have the Clout to Move the Public' Given Poll Numbers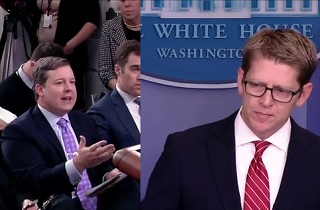 President Obama's poll numbers have been hit hard in recent months, particularly by the rollout of Obamacare, and the attendant negative press. At Tuesday's White House daily briefing, Fox News Chief White House Correspondent Ed Henry brought up the most recent of these polls, a Washington Post-ABC News poll, and asked Press Secretary Jay Carney "Does (President Obama) really still have the clout to move the public, to move the Congress on these big issues when his approval ratings continue to sink?"
Henry began by framing the polling. "When you look at the Washington Post/ABC News poll today, and they say that he ends his fifth year in office with one of the worst approval ratings — I think only Nixon had been worse at the end of his fifth year in office; George W. Bush was higher and Bill Clinton was higher, both parties — how can you reasonably expect to get any of these big issues like immigration reform done next year?" Henry asked.
"Because they're the right thing to do," Carney said. "Because they're the kinds of issues that have traditionally enjoyed bipartisan support. Because they go directly to his promise to have as his top priority economic growth and job creation, and creating a more secure and expanding middle class. Because it's in the interests of Democrats and Republicans to pass comprehensive immigration reform."
"But you've been on both sides of this podium," Henry countered, "and you understand that a President also needs to be able to move the public and then that can move the Congress. You've made those arguments on immigration reform, et cetera, before. Does he really still have the clout to move the public, to move the Congress on these big issues when his approval ratings continue to sink?"
The question was reminiscent of one which was posed directly to the President by ABC News' Jon Karl, in April, when he asked the President "Do you still have the juice to get the rest of your agenda through this Congress?"
At that time. President Obama cited immigration reform and a budget deal on the sequester as two important goals, but since then, his approval rating has fallen by nine points, an 18 percent decline. Congressional approval has dropped by four points, a heftier 25 percent decline from the 16 percent it enjoyed at the end of April. Also since then, a budget deal to replace the sequester is now expected to pass this week, and comprehensive immigration reform has already passed in the Senate, and is waiting for a vote in the House.
Those are the data points Carney pointed to, telling Henry, "Well, Ed, again, you won't hear an argument from me that everyone in Washington is taking a hit because of Washington's performance of late. Now, in recent days and weeks, there has been I think some demonstrated improvement in Washington's performance when it comes to the budget agreement and also when it comes to the fact that we're seeing government — Washington do some of the things that it's supposed to do, Congress do some of the things that it is supposed to do, like confirm qualified nominees for executive branch positions and for the bench. So this is progress."
Here's the clip, from The White House:
Have a tip we should know? tips@mediaite.com